Linking up with
TAMI
for Weekend Rewind
I love her blog.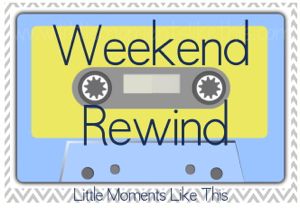 I wish I could say that we had a low key weekend filled with relaxation and doing a whole lot of nothing but our weekend was nothing like that. And I'm ok with that.
Friday
daddy worked and the girls and I just hung out around the house and played. While the girls played I started to pack and go through our stuff and start making piles to throw away and take to Goodwill. I also worked on the finishing touches for Kaylee's party. Once daddy got home we headed over to our friends house for a BBQ. The girls had a good time playing with his pool table balls. Kaylee didn't go to Grandma's on Friday cause Grandma and Grandpa are off enjoying themselves on vacation in Germany till May 14th.
Saturday morning we ran some errands in the morning before coming back to do some more packing. The girls went down for their nap and when they woke up we got them ready to head out to Jason's dads birthday party. We had a good time at the party celebrating with family and friends.
HAPPY CINCO DE MAYO!
The girls with their Great Great Grandma
The girls with their new friends
The gift we got Jason's dad. It was in really bad shape and Jason had his friend fix it up, his dad loved it!
Sunday was a full day spent MOVING! We woke up to a house with no food for breakfast so we loaded the car up with some stuff to move to the new house and then loaded the girls up and went to McDonalds (which we never do) and we got some breakfast and headed to the new house. We ate breakfast on the kitchen floor together.
After eating and unloading the car we took our tape measure to figure out where stuff was going to go. Kaylee is getting a new big girl bed for her birthday from Jason's dad so we measure it out in their room and figuring out how we wanted to set their room up. (Jason's dad is also buying the same bed for Keira to give to her for her 2nd birthday or maybe sooner). So we have almost everything figured out on how were going to set everything up.
We then left and headed back home to put the girls down for a nap. During nap time I loaded my car up with more stuff to take over and then came inside to relax and take a nap! haha. We watched a movie and then the boys loaded more stuff into our other truck. When the girls woke up we loaded them up in the car again and headed to the other house to unload more stuff. After unloading and figuring a few more things out, we left and had to head to Jason's parents house to pick something up and then headed to the store to get some stuff for dinner. We invited some friends over and we BBQd some hamburgers and hot dogs with salad and french fries.
This week we will be packing more and slowly moving stuff over to the new house. Next weekend we only have one full day of moving stuff since Sunday May 13th is Mother's Day/Kaylee's birthday and we have big plans for that day. We are headed to Old Sacramento to spend the day at the Train Museum and to have a picnic. It should be a lot of fun and Kaylee cant wait.