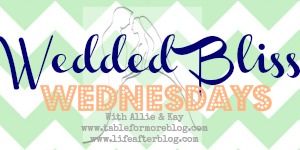 I'm linking up with one of my FAVORITE bloggers Allie from
Table for MORE
for her new link up Wedded Bliss Wednesday. Often times in the blog world the husbands are not talked about to much or show cased as much, so this week is all about our husbands!
Well if you've been reading my blog for any length of time you'll know that Jason & I are not married but we have been together for almost 11 years, I mean being with someone for that long it seems like were married!
Introduce us to your husband! (What's his name? How old? What does he look like?)
This is JASON my other half.
He turned 28 back in August.
He's 5'10" with brown hair and brown eyes.
(2011)
(2012)
What is your husband's favorite thing to do?
Shooting guns
Off roading
Being out on the boat
Spending family time together
What does your husband do Monday-Friday?
Monday - Friday you can find my hubby digging pools. His dad owns a pool building company and he works with his dad. They build some really cool pools and do awesome landscaping. If you live in Northern CA and your looking to get a pool JESS POOLS is the way to go!

What was the FIRST thing you noticed about your husband when you met?
His sexy body!
No it was his

personality

, he was funny. One of his friends introduced us and the rest was history. I can remember the first night we hung out with some friends and after he dropped everyone else off he dropped me off and asked for my number. I of course gave it to him and he called me like 5 minutes after dropping me off. We talked on the phone for like 3 hours, yeah 3 hours. We always joke now about what the heck did we talk about on the phone for so long. hehe
We've been through a lot during these 11 years together. We took a short break after high school while he attended college in Chico. We then got back together, moved in together, moved a few times, got our first dog, moved to LAS VEGAS, moved back to CA, lived in an RV for a short time, found out we were pregnant, moved again, had a baby, 9 months later found out we were pregnant again, moved again, had the baby, went on some vacations, moved one more time and then found out we were pregnant again! (yes we've moved a lot, I'm hoping that by the beginning of this next year we will be buying our first house...I HATE moving).
What is your husband's BEST quality?
He is very HARD WORKING, he's willing to help out anyone, he is the BEST DADDY I could have ever asked for for my kids. I mean I could go on and on. He's great!

What is your husband's biggest pet peeve?
People who cant drive
Me grinding my teeth
When the girls whine (LOL)
How does your husband feel about blogging?
He doesn't care that I blog, as long as blogging doesn't come before taking care of our kids and keeping up on the house cleaning. I try to blog either during nap time or after the girls go to bed.

What is something you do/can do that makes your husband feel loved?
I try to send him a sweet text everyday telling him how much I love him & appriciate all that he does for us. Showing him affection when he gets home from a long day at work. Rub his back after he's worked a long day!