On May 13, 2009 at 12:57am after 18.5 hours of labor and 2 hours of pushing, I became a mommy for the first time to the most beautiful little girl I've ever seen! She weighed 6lbs 15oz and was 19.5" long. We decided on her name after we found out what we were having.
KAYLEE ELIZABETH
I had an easy pregnany with her and the labor/delivery wasn't bad either. She entered the world crying and my life was complete. The joy that I felt that day was the best feeling in the world.
The first year with her went by so fast and I wanted time to slow down to enjoy every minute with her. I was luck enough that I was able to become a stay at home mom and I couldn't have asked for a better job to have. We celebrated her 1st birthday with a big party of family and friends. It was an eventful 1st birthday including a call to 911 cause she was chocking (she was fine). We sang to her and she really smashed into her cake and it was a good day. She was such a good baby. She started sleeping through the night at 4 weeks old, sat up unassisted at 4 months old, started eating rice cereal at 4.5 month old, said her first word "MAMA" at 5.5 months old, got her 1st tooth at 6 months, started crawling at 10 months, stood up unassisted at 13 months and finally started walking at 14 months old. From that day foward she's been an energetic toddler.
Once she started talking it was all over from there. She would mimic everything that we said and did.
We joined a playgroup when she was 1.5 so that she could interact with other kids and so that mommy could have some adult conversation. Not that I didn't enjoy talking to her it was just that she couldn't really talk back with me.
Watching her grow up into the beautiful little girl that she is today has made me the happiest mommy around. She has made me so proud and I couldn't imagine my life without her. Yes she does have her moments when she makes me want to rip my hair out and go crazy with her tantrums or excessive whining for no reason. She's made me a better person and I couldn't of been happier to have a little girl. She is 100% a daddy's girl (she use to be a mommy's girl when she was little).
We learned in June of 2009 that Kaylee was going to be a BIG SISTER. The second pregnancy was not planned at all and was a total surprise. I was worried about how Kaylee would react with a new baby and was scared to be a mom of 2 under 2! But Kaylee has made my life complete.
On November 29, 2010 at 10:43pm after 15 hours of labor and 20 minutes of pushing I became a mommy again. She was weighed 7lbs 1oz and was 20" long. This labor was different than the one I had with Kaylee. I went to my 39 week appointment and was told to go to the hospital immidetly cause they thought I had really low fluids, so they induced and I didn't learn until after I had her and they cleaned her off that the cord was wrapped around her neck twice. I was only able to see her real quick ebfore they took her away, so it was different in the way that she didn't get placed on my chest after she was born but I was so thankful that she was ok.
Trying to pick a name for this little lady was harder than I thought it would be. I liked so many cute names that Jason scratched off the list real quick. We went back and forth on names until I was about 35 weeks along and then we finally agreed on her name.
KEIRA ALEXIS
I had to wait 2 hours before they brought her into me and she was the most beautiful little girl I'v seen. Now that I had her & her sister my life was really complete now. We were a family of 4 and I couldn't have been any happier.
I was sad that I was away from Kaylee for 2 days cause I had never been away from her for mom than a couple hours. So the day we got home from the hospital I was so excited to see Kaylee & super nervous at the same time. She was only 18.5 months old, how is she going to react to this new little person invading in on her time with mommy. I was worried that she was going to be jealous. But I made it a point that when the baby was sleeping I would have mommy & Kaylee time.
The first few weeks at home were busy and tiring trying to figure out a schedule and get on some sort of routine. Those first few weeks Kaylee didn't really pay attention to Keira at all. Whe Keira cried Kaylee would go over there and look at her and then run off.
After a few weeks had a past she started to warm up to her. I think she realized that this new little person wasn't going anywhere and she would have to get use to her being there all the time.
Kaylee started wanting to help more with her and wanting to be next to her and even hold her. Keira spent most of her days sleeping. She was a very calm baby and didn't even cry unless she was hungry. She had the quietest little cry I've ever heard. I breastfeed both my girls for a month before the milk ran dry and then they were switched to formula. She would sleep 4 hours a time at night which I thought was great. I still had energy during the day and didn't need to take naps which I thought I was going to have to do when I had 2.
Keira is now 5 months old and I couldn't imagine not having her her with us. She had made our family complete. Her little personality is really starting to shine through. She started lifting her head early and had great head control too. She hated tummy time with a passion. She started smiling at 6 weeks old, she did a belly giggle at 3 months old, at 4 months old she started sitting up unassisted for about 30+ seconds, she tried her first taste of baby food at 4.5 months old and even slept through the night twice. Oh how I wish she would do that more often. She goes to bed around 9 and wakes up around 4 to eat and then goes back to bed until 8. So that's nice.
So on my second Mother's Day as a mommy of two little girls I'm going to enjoy the day with my family. I am so thankful that God choose me to be the mommy to these beautiful little girls. They make me a proud & happy mama. This mother's day I'm thankful that I get to stay home with my girls and watch all the new things they learn. I wouldn't want to miss any of the milestones.
I am LOVING my girls with all my heart!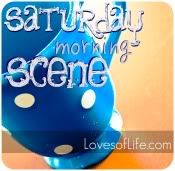 It's Saturday! Which means we are linking up with
Katie
again for another edition of Saturday Morning Scene