I haven't done a Saturday Morning Scene in a long time and decided I'd do one today.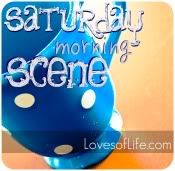 Our Saturday morning started out quite early as little Miss Keira decided she wanted to be up and playing at 5:30 this morning. She drank a bottle and I'd hoped she'd go back to sleep cause mommy really didn't want to get up at 6am on a Saturday morning. NO LUCK for mommy. By 6:15am she was standing up in her crib ready to get up. So I brought her in bed with us hoping I'd be able to pat her back and she'd fall back asleep, NO LUCK. So around 7am we headed downstaires cause I didn't want her to wake up Kaylee. Well in the 10 minutes of being downstaires and sitting in her bouncer while I did something real quick she had fallen back asleep! That little stinker!
Its suppose to be another hot day today in the high 80s low 90s so you will find us out by the pool today. Daddy is doing some work from home today and then we might have some friends and their kids over for some swimming and BBQing. We might also hang out with my parents today while their in town, they leave tomorrow afternoon to head back to Colorado.
Have a great Labor Day weekend